Arkansas Chapter
Welcome to the Arkansas Chapter of the IMIA. The IMIA's goal is for all IMIA Chapters to flourish to meet all the needs of the members of each region. While the IMIA is international it believes in the 'Think Global, Act Local' motto. We will have periodic conference calls to allow members in this region to network and find ways to advance the profession together in the region. Please email your representative with ideas, issues, and topics that you think should be discussed. The IMIA believes that organizing an IMIA Symposium each year in each state should be a key goal of the Chapter. If you are willing to volunteer to assist, please let your representative know.

Iliana Sutton is the IMIA Arkansas Chapter Chair
In 1990 in Springdale, Arkansas, Iliana Sutton organized an economical after-school program for Springdale Schools that offered elementary-aged children an exposure to a second language and cultural enrichment, which also allowed working, parents a safe after-school environment for their children. A couple of years later, Iliana began a program at the local schools that provided bilingual high school seniors the opportunity to assist in volunteering their time to interpret for parents and school faculty. Later, Northwest Arkansas school districts adapted this program, which continues to this day to be a successful after-school program. In 2001, as the need for bilingual office staff grew in the community, Iliana Rivera developed a computer training course for female minorities to improve daily life skills and self-enhancement needed to be successful and competitive in the local workforce. Iliana began her career as language coordinator at Washington Regional Medical Center in 1996, learning the dynamics of language in the world of healthcare. She designed, developed and implemented Washington Regional's Language Department, where she worked to break communication barriers between patient and healthcare provider through language programs and interpreter services. Her years of dedication to research and her unique knowledge as Washington Regional's language coordinator have produced the only hospital-based language program in Northwest Arkansas. Her work has been featured in Physician's Journal and she was awarded Wal-Mart 2010 Heroes de Corazon award. She presently serves on the board of International Medical Interpreter Association and is the CEO and owner of an Interpreting Training service in Northwest Arkansas, Aha! Interpreting Solutions. Aha! Specialize in medical interpreting educational workshops and employment language assessments resources throughout the tri-state area.
Announcements
Resources
Gallery
Arkansas Chapter Vice Chair representing IMIA at the annual ArkanSalsa Fest on October 17, 2015 in downtown Springdale. Attended by 4000 people in 2014, local health care resources and providers helped launch a health fair, providing information and basic health screenings. AETN distributed over 820 books and 660 backpacks filled with literacy activities to families in our Arvest "Feed Your Brain" Kid's Zone. Over 40 nonprofit organizations and businesses provided resources for the community. Festivities included live music, salsa and Zumba lessons, 5K/1m run.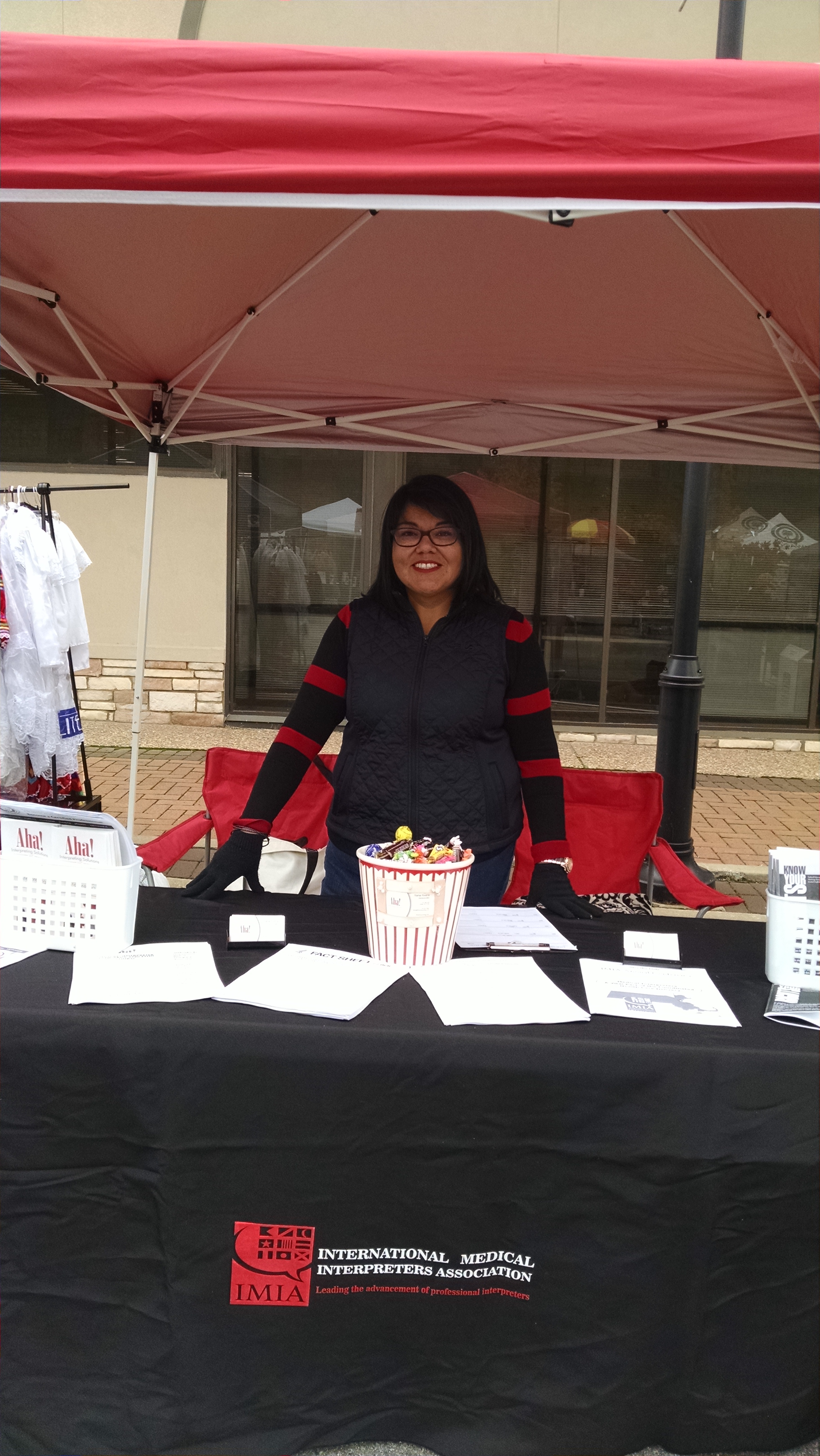 Former Representatives
Angelina Levitskaya
Angelina Levitskaya, IMIA Representative for Arkansas, passed away December 20, 2011 at age 64. Angelina helped develop the National Board of Certification for Medical Interpreters certification exam as a Subject Matter Expert (SME), and served on the Testing committee. She was an energetic and determined advocate for medical interpreting standardization. "It is indeed very sad and unexpected to learn the news of her death. She would have wanted us to continue full steam ahead with our certification program. She was one of the original IMIA state reps and was there from the beginning in the process of making medical interpreters certification a reality." Dr. Alvaro Vergara, Director National Board of Certification for Medical Interpreters.