The purpose of this group is to engage in discussions and share opportunities and materials that are of interest to Spanish medical interpreters.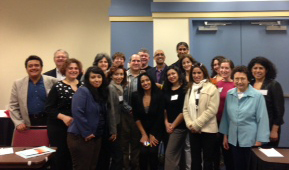 IMIA Spanish Division Meeting at the
2013 IMIA Conference in Miami Beach, FL.
---
IMIA Spanish Division listserv

If you wish to subscribe to the IMIA Spanish Division listserv and participate in interesting discussions please go to:

http://lists.imiaweb.org/listmanager/listinfo/imiaspanishdivision
**You must use one of the email addresses associated with your IMIA membership profile to join the ListServe.**You post a message by writing a new message in your mail program and sending that message to:

imiaspanishdivision@lists.imiaweb.org
To Administer the ListServe Means:

* Approve applications to join by checking to confirm they are IMIA members in good standing
* Delete from ListServe monthly those members that have expired
* Approve each emailed ListServe message if it is a moderated ListServe
---
Search Engine for Slang Terminology
http://www.jergasdehablahispana.org/
ENGLISH-SPANISH DICTIONARY OF HEALTH RELATED TERMS
The dictionary can be downloaded for free at:
http://www.ucop.edu/cprc/cmhidictionary.pdf
Or paper copies can be ordered from:
California-Mexico Health Intiative
California Policy Research Center
University of California Office of the President
1950 Addison Street, Suite 203
Berkley, CA 94720-7410
(510) 643-4089
Fax: (510) 642-7861
http://www.ucop.edu/cprc/cmhi.html
California office of Binational Border Health
California Department of Health Services
3851 Rosecrans Street, Mail Station P-511B
San Diego, CA 92138-5524
(619) 692-8821
Fax: (619) 692-8821
http://www.dhs.cahwnet.gov/ps/dcdc/COBBH/
Real Academia Española
http://buscon.rae.es/diccionario/drae.htm

Diccionario médico biológico etimológico
http://clasicas.usal.es/dicciomed/

Tu otro médico
http://www.tuotromedico.com/

Hablamos Juntos
Funded by Robert Wood Johnson, Hablamos Juntos' aim is to improve communication between health care providers and their patients with limited English proficiency. Ten demonstration sites have been established in regions with established or emerging fast-growing Latino populations.
http://www.hablamosjuntos.org

MANUAL MERCK DE INFORMACIÓN MÉDICA PARA EL HOGAR
ISBN 0911910-14-X ($34.95)
The entire manual is available for free consultation online:
http://www.msd.es/publicaciones/mmerck_hogar/
Spanish version:
http://medlineplus.gov/spanish/

Este es un periódico que se distribuye todos los días a los médicos en los hospitales. Muy interesante.
http://www.diariomedico.com/
Éste también
http://www.saludalia.com
Página de la base de datos donde estén indicados todos los artículos científicos que se publican mundialmente:
http://www.ncbi.nlm.nih.gov/Entrez/
Clic "PubMed"
105-page glossary of medical terms and abbreviations in Spanish.
http://www.msc.es/estadEstudios/estadisticas/docs/diccionarioSiglasMedicas.pdf

La Palabra del Día
Get daily new Spanish terms with translations in context. This is a helpful tool for interpreters who want to increase their Spanish and/or English vocabulary and perfect their interpretations by avoiding literal translations. To join go to http://www.spanishlanguage.co.uk/palabradia.htm

Spanish Blog:
http://publichealth.blog.state.ma.us/la-nota-de-salud

Article about Certification in Spanish
Certificacion de Interpretes Medicos Beneficia a Pacientes
http://metrolatinousa.com/noticia/122750/certificaci-n-a-int-rpretes-m-dicos-beneficia-a-pacientes

English & Spanish Words & Phrases for PDA
List Price: $37.95
This instant-access PDA reference for health professionals or interpreters presents English and Spanish translations of medical terms and phrases. Specific areas include diagnostic tests, history and physical examination, body systems assessment, medical equipment and supplies, nutrition and diet therapy, medication, and more. Body system sections include symptoms, medical history, family history, pediatric, geriatric, pregnancy, plus anatomic illustrations with English and Spanish captions.
Platform: Palm OS, Windows CE, and Pocket PC handheld devices.
System Requirements: Most Skyscape products work off memory cards.
Palm: Requires 1.4 MB
Pocket PC: Requires 2.2 MB.
Also Available for iPhone/IPod touch
http://intransbooks.com/book_story/1582553319


See and Hear 1,000 Medical Spanish Phrases on your iPod
List Price: $14.95
See and hear 1,000 Medial Spanish Phrases on your iPod. With this audio program you both see and hear hundreds of words and phrases. Based on the cutting-edge iSpeak technology, this handy reference supplies more than 1,000 essential Spanish words and phrases used in common medical situations--from primary care consultation to emergency assistance. Organized by medical specialties--such as cardiology, nephrology, and pediatrics.
http://intransbooks.com/book_story/0071453776

2010 Immigration Lecture Glossary
http://www.imiaweb.org/uploads/docs/2010_Immigration_Lecture_Glossary.pdf

Propuesta de formacion en interpretacion en el ambito de la medicina
http://medtrad.org/panacea/IndiceGeneral/n26_tribuna-Ruiz.pdf

HIV/AIDS Spanish-English Glossary
http://minorityhealth.hhs.gov/Assets/pdf/Checked/1/MAIN_%20Bilingual_Glossary_2009_Edition_v15_1_checked.pdf

Useful websites for interpreters/translators:
www.wordreference.com
www.sensagent.com

Useful book:
El español de España y el español de América
Vocabulario comparado
http://openlibrary.org/books/OL13239445M/El_Espanol_De_Espana_Y_El_Espanol_De_America_the_Spanish_from_Spain_and_the_Spanish_from_America

Source of Spanish terminology on health. High register and well done.
http://www.iqb.es/

"Spanish idioms with their English equivalents embracing nearly ten thousand phrases" Available for free download.
http://books.google.com/books?id=uO0RAAAAIAAJ


---
IMIA Spanish Division Chairperson

Contact:
IMIASpanishDivision@imiaweb.org

Samuel Melo
Over twenty years of simultaneous and consecutive interpreting for international conferences in more than twenty-five countries and territories. Cross cultural communication and diversity training. Coordination and mobilization of thousands of North American volunteers serving in medical, educational and construction humanitarian projects in Africa, South America & the Caribbean. Leadership development and job training to disenfranchised youth. Public speaking experience in small and large venues. Training in the Latin American legal system. Provider of Interpreting service.
---
IMIA is currently looking for a Spanish Division Vice Chairperson
For more information please email info@imiaweb.org.

Serving in a chapter, committee or division leadership role provides enormous opportunities, both professionally and personally. IMIA Chairs frequently find themselves becoming more successful in their own careers as they develop additional skills, make useful business connections, and share ideas with other division members. The IMIA Administration provides support and mentoring for their success. Preference shall be given to candidates with previous involvement in the activities of the organization.


Vice Chairperson
VACANT
To Apply for an IMIA Chairperson Position, See the Requirements (same as for IMIA Representation):
http://www.imiaweb.org/uploads/docs/Requirements_for_IMIA_Representation.pdf

Vice Chairperson Responsibilities:
- To assist and work closely with the Chairperson in all their responsibilities as requested
- To assume the duties of the Chairperson when the chairperson is not present or available
- To apply for the chairperson position when the chairperson ends their term

To Apply for an IMIA Chairperson Position, See the Requirements of the Chairperson. All is the same except that only one letter of recommendation is needed, not two.

If you have any questions about applying please email info@imiaweb.org

Further information about the work of the committee or division, please email the appropriate chairperson.
© 2013, International Medical Interpreters Association | Site map


Find us online: