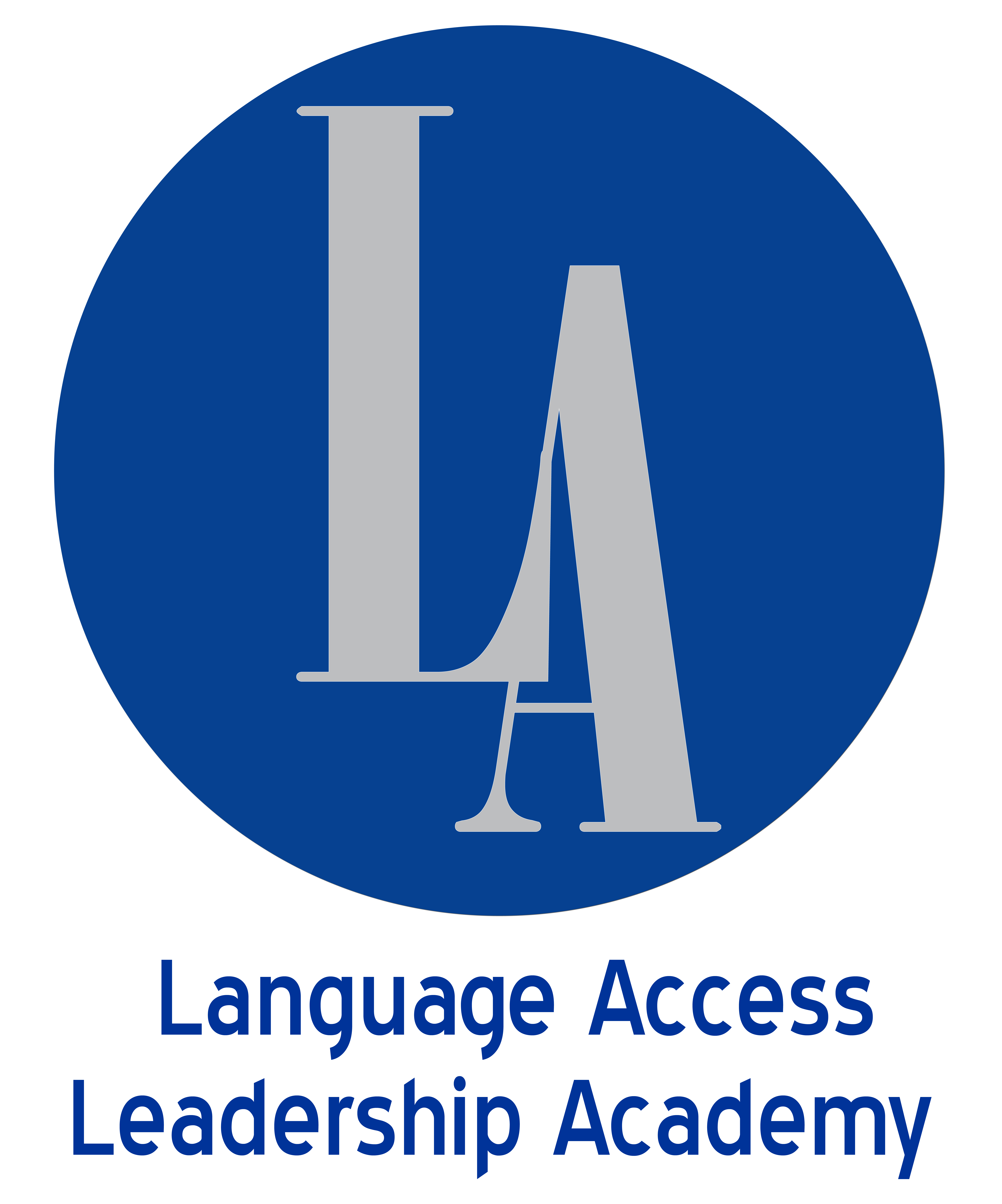 Target Candidates:


This program is open to individuals interested in:
Advocating for language access in healthcare
Leading change in their organizations as employees, leaders, members, or volunteers.


Leadership Academy is for experienced professional in the medical interpreting field who now want to hone the knowledge and skills to support future leadership roles. Leadership Academy Fellows will be selected based on their resumes, letter of intent, and a letter of recommendation.
 Class size is limited so please send your application as soon as possible.


Registration:

 Open enrollment; limited space, first come first serve
Cost:

$509 for IMIA members/
 $699 for non-members


Time Frame:

 The 6-month program runs from September to March
Online session take place every other Thursday, 2pm- 3:30pm EST
Conference calls occur monthly on a Friday, 3-4:30pm EST
Admissions Criteria:
- Demonstrate 3 years of professional working experience as a medical interpreter
Or
- Demonstrate professional experience in administrative capacity in the language access field (manager, superviser, owner, training coordinator)
Or
- Demonstrate commitment in language access and cultural competency
Required Documents
:
Resume
Letter of intent
Bio (150-200 words)
One letter of recommendation [Include referral's Name, Title, Company, Contact Email]
Headshot [After you are formally accepted into the program]
Format:


1.5 Hour Webinar Sessions
1.5 Hour Conference Calls
Interactive activities include conference calls and online discussions
Leadership mentoring component
Capstone Project
2.5 IMIA CEUs

IMIA CEUs

IMIA Leadership Academy Fellows Registry at completion of the program
Graduation showcase and celebration at the 2016 IMIA Annual Conference
An opportunity for members of the winning Capstone Project Team to present their project during a workshop breakout session at the 2016 IMIA Annual Conference
---
Leadership Academy
1. Webinars
*
Session 1
Decision Making and Leadership
Instructor: Cynthia P Hermosillo
Date: 9/10/2015

Session 2
Assertiveness for Leaders: Stand Your Ground Without Building Barriers
Instructor: Cynthia P Hermosillo
Date: 9/24/2015 rescheduled 10/1/15

Session 3

Session 4
The Business Case for Credentialed Medical Interpreters
Instructor: Eric Candle
Date: 10/22/2015

Session 5
Title VI: Legal Framework for Language Access
Instructor: Eric Candle
Date: 11/5/2015

Session 6
Presentation Skills
Instructor: Patricia Alonzo
Date: 12/3/2015

Session 7
Teambuilding, Mentoring And Coaching Skills
Instructor: Cynthia Schenck
Date:1/7/2016 Rescheduled:1/8/2016 7-8:30pm EST

Session 8
The Role of Interpreter Associations in Advancing the Profession
Instructor: Katzumi Takesako
Date: 1/21/2016

Session 9

Session 10

Session 11
Managing Conflict
Instructor:

Anastasia Antoniou, MBA


Date: 3/3/2016

Final Session
Capstone Projects and Evaluations are Due
Instructor: Patricia Alonzo
3/17/2016

Session topic subject to chage; topic and content adjustment will remain faithful to and within the scope and purpose of Leadership Academy
* These webinars are open to the public at a cost per webinar of $75 per webinar
2. Conference Calls
These are interactive sessions about how to advance language access in healthcare. These are reserved for Leadership Academy Fellows.
Conference Call 1
Date: 10/16/2015
Ethics for leaders
Conference Call 2
Date: 11/13/2015
International Initiatives
Conference Call 3
Date: 12/11/2015
Advocacy Initiatives
Conference Call 4
Date: 01/15/2016
Interpreter Service Providers Initiatives
Conference Call 5
Date: 02/12/2016
Educational Initiatives
Conference Call 6
Date: 03/25/2016
Evaluation of Program
3. Capstone Project
All Leadership Academy Fellows write a final paper on the skills and knowledge areas that are key and specific to language access in healthcare advocates.
© 2020, International Medical Interpreters Association | Site map


Find us online: